What We Do

Miskas Wood Products Inc is a family owned wholesaler which now sells pine products directly to the public. We have years of experience in the manufacturing industry and our products are used and trusted by contractors all over the GTA and beyond. We pride ourselves on the quality of our products and a can-do attitude when it comes to helping out clients solve problems! As a member of the public or as a professional contractor, you can be assured that Miskas will deliver the very best in service and quality to you every time.

We like to make things easy for our customers, and most of our range is available primed and even painted for your installation convenience. If there's a product missing that you're interested in having us make, why not get in touch to see if we can help with your project?

The best part - we do everything under one roof! We chop, finger joint and mill. By keeping all our operations under one roof, we can double check for quality throughout the entire manufacturing process, control production schedules and cut down on transportation costs. Our customers appreciate having a single point of contact. The end result for you is reduced costs, higher quality product, great customer service and guaranteed on time deliveries!
Bronek + Grand-kiddos
Collapsible content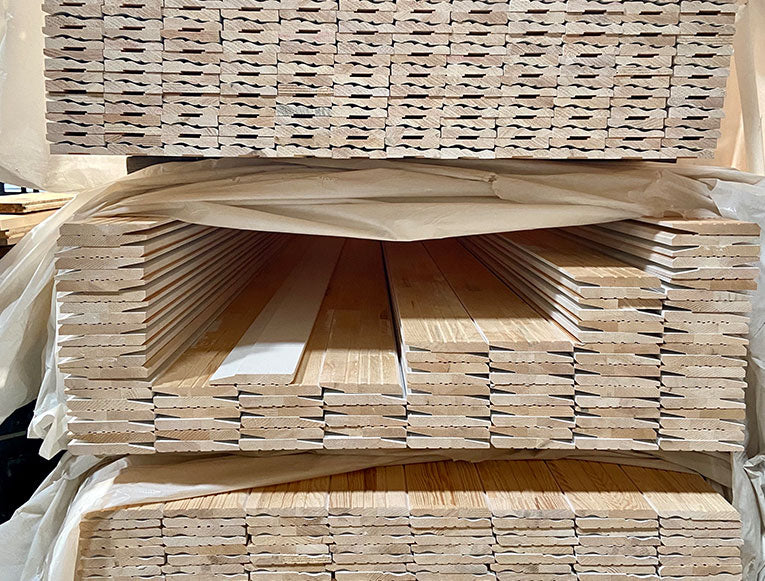 Our Main Focus
What People Say
"As a local contractor I use Miskas for all my trim jobs because Miskas Mouldings are always consistent in quality and so is the service when ordering and purchasing their products. The material they use is a superior paint grade product compared to MDF mouldings."
LS Custom Contracting
"We have used Miskas Wood Trim for all our wood trim needs for several needs! They are a great company with great customer service. All the staff are friendly and very helpful. They sell high quality products. I would highly recommend them to anyone!"
Anthony
"Great products and customer service. We have completed many projects over the years with the help of Miskas knowledgeable staff. They are always eager to help and can answer any questions you have. Our latest project involved shiplap and it's beautiful. You will never be disappointed with Miskas products."
Janey H.
"Great service and products. Also helped with little tips for install. Trimmed out house using Miskas products. Very Happy."
Jeffery S.
"Both the service and product at Miskas was exceptional - with fair pricing! They are a family run company and are very friendly. I bought all my trim/baseboard from Miskas and I have got many compliments on it - including from the installer."
Eric G.
"Super friendly, very knowledgeable and fast/efficient service. Great quality in their products. Our whole home is done using their bevel series product. We love it!"
Keith S.
"The product is excellent, the delivery was ideal and, the staff were very easy to deal with especially in light of the current business closures due to the virus pandemic. I am very satisfied with the look of the finished trim after it was installed and painted. I would recommend this company to any one in need of quality wood trim."
Larry C.
"The family members are friendly, helpful, and prompt! Their prices are very competitive and they offer free delivery in Georgetown. Highly recommended them."
Trisha M.